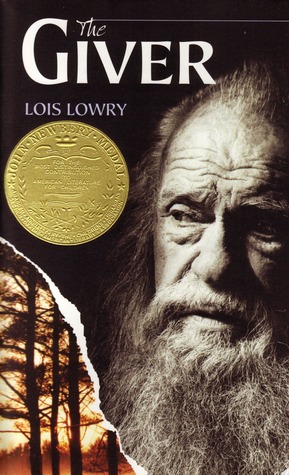 Title: The Giver
Author: Lois Lowry
Series: The Give Quartet (#1)
Genre(s): Dystopian, Sci-Fi, Fantasy, YA
Jonas's world is perfect. Everything is under control. There is no war or fear or pain. There are no choices. Every person is assigned a role in the Community. When Jonas turns twelve, he is singled out to receive special training from The Giver. The Giver alone holds the memories of the true pain and pleasure of life. Now, it is time for Jonas to receive the truth. There is no turning back.
The Giver was an amazing tale of a perfect dystopian community, however, perfect isn't always perfect. Jonas is a 12 year old boy who lives in this community where the people know nothing. Absolutely nothing. Nothing about death, fear, pain, and war. They knew perfection. And Jonas's community is so perfect, that no one could even see colours. You don't ever know your real parents, as they are adopted by a couple who were matched together. And that couple never has kids, its up to the Birthmothers to produce children.
Everyone is assigned a job when they turn 12. But Jonas's job is different. His job is to go to an old man, called the Giver, who gave him memories of the past and death, fear, pain and war.
The Giver isn't one of those books where you jump up and down after you finish reading it. It's not one of those books where you fangirl over the hot guy. It's not a book filled with shit about a girl who thinks she's special because she's super smart and has powers.
The Giver is a tale of society, family, community, and love.
It's just one of those books that have dug a hole into your heart and stuck itself there with glue. Honestly, I just can't express how much this book really made itself amazing. Although there's no romance or adventure, this is a book that has a lot of meaning. Lois Lowry has written this book in such a great and powerful way, it really left me there, just thinking.
I loved The Giver. It was very well written, and made me feel sad most of the time, and it got me so touched. There was only one problem that I had with this book is that it was just too short. Although I understand why Lois Lowry cut the book off, I just wish it had been longer. The woman has a brilliant mind. She created a cliff hanger, but it wasn't exactly a cliff hanger. It was more like she ended it and got you to imagine what happened, because there wasn't anything regarding what happened after. They could have died, they could have not, which was brilliant of Lois Lowry to think of.