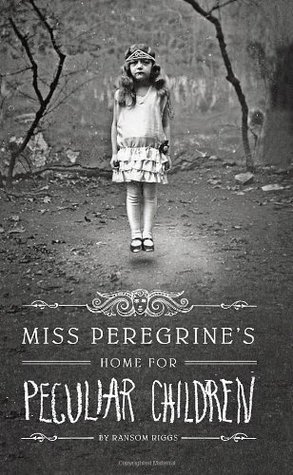 Title: Miss Peregrine's Home For Peculiar Children
Author: Ransom Riggs
Series: Miss Peregrine's Home For Peculiar Children (#1)
Genre(s): Mystery, Fantasy, Historical Fiction, Adventure, Paranormal, Sci-Fi, Young Adult
Publisher: Quirk
Publication Date: June 7, 2011
Pages: 352
A mysterious island. An abandoned orphanage. A strange collection of very curious photographs.
It all waits to be discovered in Miss Peregrine's Home for Peculiar Children, an unforgettable novel that mixes fiction and photography in a thrilling reading experience. As our story opens, a horrific family tragedy sets sixteen-year-old Jacob journeying to a remote island off the coast of Wales, where he discovers the crumbling ruins of Miss Peregrine's Home for Peculiar Children. As Jacob explores its abandoned bedrooms and hallways, it becomes clear that the children were more than just peculiar. They may have been dangerous. They may have been quarantined on a deserted island for good reason. And somehow—impossible though it seems—they may still be alive.
A spine-tingling fantasy illustrated with haunting vintage photography, Miss Peregrine's Home for Peculiar Children will delight adults, teens, and anyone who relishes an adventure in the shadows.
It started like this:
And ended like this:

This book features Jacob, who's grandfather has been killed by monsters, and his final words tell Jacob to go to the island of peculiar children, where Jacob will be safe from the monsters who killed his grandfather. So Jacob travels to this island, mops around there for a while, and finds these peculiar children, and so on.
First, let's start from the beginning. The plot started off really well, and Riggs created a lot of suspense and mystery to keep the reader engaged in his book. I loved the idea and the concept of the beginning, how Jacob's grandfather left him with a mystery, and I was amazed by the storyline in the beginning. But as I read on, it just became more and more disappointing.
When we go into the middle where Jacob finds the peculiar children, everything is explained, the suspense level dropped to absolute 0, and then it became too forward and straight. And from the middle to the end, everything fell apart and became a mess.
It was like pouring your coffee right to the edge of the cup, and slowly bringing it over to the table until a cat jumps at you and knocks the entire thing over in your hand.
I honestly felt like I was forcing myself to read the last few chapters of the book. It was disorganized and boring that I just couldn't stand the book anymore. Which leads to the next issue: the characters.
Jacob lacked depth and development. He was extremely childish and spoiled, and he was an exact replica of Quentin from Paper Towns (His parents own a huge company and he has a JOB in his parent's store and he doesn't even want the job! Doesn't he realize how many people are needing jobs right now and that his parents are trying to give him a good future by letting him work at the store so someday he could take over the ENTIRE COMPANY AND THE FAMILY'S FORTUNE???).
In fact, the entire plot was so similar to Paper Towns.
Margo (which is the like grandfather in this book) is missing and is assumed to be dead while leaving all these clues for Quentin, a friend, to find. The two books are so similar that NO WONDER John Green likes Rigg's book. It was like re-reading Paper Towns which I never intended to do.
"A tense, moving, and wondrously strange first novel. The photographs and text work together brilliantly to create an unforgettable story." ~John Green
When I saw the quote by John Green on the back, I was like "oh hey, John Green likes this book...damn he's my least favourite author (yes, you heard that right) but damn, everyone says this book is oh so good... but it's already on my shelf so I might as well read it".
BIGGEST MISTAKE I EVER MADE. I never knew that when an author likes another author's book, the book is probably a lot like the author's, which is why the author likes it in the first place.
And another thing I have to say is: Emma and Jacob were ABSOLUTELY DISGUSTING. Seriously, dating your GRANDFATHER'S EX is practically incest as Jacob himself even stated, but no, they just have to kiss at least twice. I never expected this book to have a so called "romance" and I didn't want it to, because this kind of book is perfectly alright without a romance. Not every single YA book has to have a romance in order to be good! And it just ruins the book entirely when you put in a BAD romance, not to mention an unnecessary one.
The writing style itself was very bland and lacked that "intelligence". I didn't notice the large flaw in the writing style in the beginning because the beginning was filled with such a suspenseful and creepy atmosphere with a really interesting plot. But as the storyline worsened, it was very easy to feel that the writing style was bad. What I'm trying to say is that if the plot and suspense continued throughout the book, I may have not noticed that the writing style was flawed.
There were also many conversations that I wouldn't say unnecessary, but very boring conversations between the peculiar children and Jacob. Here's one of the conversations I just shook my head at (with some text taken out):
"Look out!"
"Millard! Are you alright? Say something!"
"I must apologize, it seems I've gotten myself shot."
"We have to stop the bleeding! We've got to take him back to shore!"
"Nonesense, that man will never let you get this close to him again. Turn back now, and we'll certainly lose MIss Peregrine."
"This way! Dive!"
"Hold your breath!"
"We can't stay here. Millard will bleed to death."
"It could take twenty minutes to get him back to shore. He could just as easily die on the way."
"I don't know what else to do!"
"The lighthouse is close, we'll take him there."
"Then Golan will make us all bleed to death!"
"No, he won't."
And it just kept on going on and on like that with the bickering between the characters, and the conversations just became kind of pathetic and childish. It's written as if this book was written for children, but it's defined as YA, since there is some vocabulary that aren't meant for children.
It felt that Riggs didn't exactly know where he was going with this. Like the whole book's plot was impromptu and didn't even get himself organized before he wrote the words down. Like he took a few pages to organize himself until he clearly stated the point. As if he was still brainstorming.
There was also another thing that I would like to point out: Jacob's decision to stay with the peculiars.
"They may love you," she whispered, "but they'll never understand."
He doesn't think about his parents. JACOB, WHAT ABOUT YOUR DAD AND YOUR MOM AND YOUR RELATIVES?? He doesn't think about how devastated they'll be that they lost their only child. He doesn't want the ordinary life, to have a family, to get a good job, to have a future. He's supposedly sixteen, but he acts like an 8 year old, wanting to stay with these peculiar friends. I just couldn't understand...he may be hunted by these wights and hallows, but as if staying with the peculiar children will help his fate! The group of children know so little, and if the book were realistic, they should probably get mauled by wights and hallows on their "journey" to who knows where...they don't even have a plan at the end of the book, other than "rowing faster".
I really wanted to like this book. I really did. It's sad because this book would have been grand and spectacular with the creepy setting and plot. I honestly expected this book to be a good one, but I was just really disappointed by it from the middle to the end. If there were a lot of editing and plot revision, this may have been an alright book. Unfortunately, that didn't happen and it just didn't work for me. However, I'm definitely not considering to pick up the next volume in the series.