Number of Books Read: 106
Number of Re-Reads: 5
Genre You Read From The Most: Fantasy (with a touch of Romance)
Best Book You Read In 2014?
I myself am surprise that I put The Winner's Curse as a Best Book I've Read in 2014 since I finished it only two days before, but it was mind-blowingly amazing. There was so much heartbreak and I just couldn't resist.
Book You Were Excited About & Thought You Were Going To Love More But Didn't?
Most surprising (in a good way or bad way) book you read in 2014?
White Hot Kiss by Jennifer L. Armentrout - *swoons*
I never thought the romance would be so unbearable! I was so touched by the ending of this book, I re-read this one 3 times :D
"I lost myself the moment I saw you."
Best series you started in 2014? Best Sequel of 2014? Best Series Ender of 2014?
Clockwork Angel by Cassandra Clare
Cress by Marissa Meyer
City of Heavenly Fire by Cassandra Clare
Favorite new author you discovered in 2014?
Sarah J. Maas! She completely blew me away with the Throne of Glass Series!
Best book from a genre you don't typically read/was out of your comfort zone?
Such Wicked Intent by Kenneth Oppel -
Holy shit guys, this was so scary and suspenseful. And I think I should not have read it during the night *shivers still* though I actually consider it quite good, if only I wasn't so creeped out...
Most action-packed/thrilling/unputdownable book of the year?
Book You Read In 2014 That You Are Most Likely To Re-Read Next Year?
Clockwork Princess by Cassandra Clare -
Maybe the entire series as well. I'm re-reading Clockwork Prince for sure since I went to Montreal for a week and purchased it in French! The entire series definitely had me crying at every part...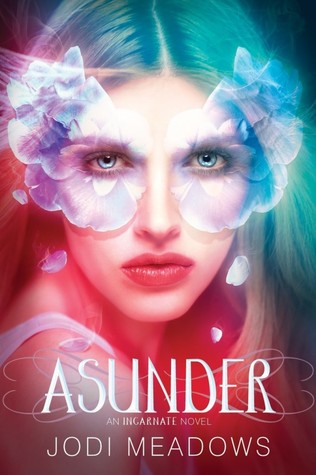 Favorite cover of a book you read in 2014?
Asunder by Jodi Meadows -
Not that the book is particularly good...but the cover is beautiful! I love how every one of Jodi Meadow's covers follow the template of a girl with a different mask each time.
Most beautifully written book read in 2014?
Favorite Passage/Quote From A Book You Read In 2014?
"The snow fell on her, it fell on him, but Kestrel knew that no single flake could ever touch them both. She didn't look back when he spoke again. "You don't, Kestrel, even though the god of lies loves you."
― Marie Rutkoski, The Winner's Curse
Shortest & Longest Book You Read In 2013?
Book That Shocked You The Most
OTP OF THE YEAR (you will go down with this ship!)
Chaol and Celaena from Throne of Glass by Sarah J. Maas *tears* Their love is so heart-wrenchingly painful!
I met Marissa Meyer and got my books signed!
The time where I requested an ARC for Golden Son by Pierce Brown and the publisher said that the book would be on the way (but then I never received it).
That when I buy books online, they're so much cheaper than buying in-store. Yeah, I didn't have much book buying experience back then, haha.
Yep! I surpassed my goal for the Goodreads reading challenge with a goal of reading 60 books, and I ended up reading over 100. Though I was lazy and I didn't add all of them to my Goodreads shelf :-\
One Book You Didn't Get To In 2014 But Will Be Your Number 1 Priority in 2015?
I actually have quite a few goals, which include:
- posting everyday or almost everyday
- read a lot more and read more diverse books
- comment on more blogs
- hopefully receive more comments