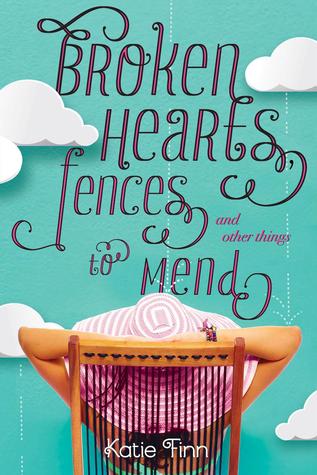 Title: Broken Hearts, Fences, and Other Things to Mind
Author: Katie Finne
Genre(s): Romance, Contemporary, Young Adult
Series: Broken Hearts and Revenge (#1)
Publication Date: May 13, 2014
Publisher: Feiwel & Friends
Hot sun. Blue waves. New romances. Old secrets.

Gemma had her summer all planned out, but it takes a sharp turn when she gets dumped and finds herself back in the Hamptons after a five-year absence.

Being there puts her at risk of bumping into Hallie, her former best friends (that is, before Gemma ruined her life). But people don't hold grudges forever. Do they?

Gemma intends on making amends, but a small case of mistaken identity causes the people she knew years ago—including Hallie and her dreamy brother, Josh—to believe she's someone else. As though the summer wasn't complicated enough already.

Filled with summer sun, boys, and friendships gone sour, Katie Finn's first novel in the Broken Hearts and Revenge series sizzles and delights.
Looking for a light and fun romantic read, I picked up Broken Hearts, Fences, and Other Things to Mend which revolves around friendship, romance, a disastrous incident that happened in the past between past best friends, Gemma and Hallie.
When Gemma is shipped off to the Hamptons for the summer after being dumped by her boyfriend, is at risk at bumping into Hallie, a previous friend who's life Gemma destroyed, and it was not by accident. Using a fake identity, Gemma strives to mend the mistakes of the past. While there were some things I enjoyed, there were other things that frustrated me, and unfortunate events that we are all
waiting
for to happen.
I found Broken Hearts predictable, and I predicted the "plot twist" at the end. Josh, Gemma's new love interest, was cliché. The romance was not the type I was looking for, it was not a slow-burning relationship development but a sudden, insta-love between characters that lacked depth. Gemma was not very bright, and in addition, boring. I did not like the choices she made, and it feels like every time she makes a choice, she chooses the wrong one. I don't know where she got the idea that she could pretend to be someone else, but if she hadn't, the Hallie Gemma conflict wouldn't have become an even more serious conflict. However, the plot would probably get nowhere if she just showed up in the Hamptons being herself...
This book is precisely a
time-ticking bomb.
How long did Gemma think she could pull off the fake identity? And what did she actually expect, that she'd be able to "mend" her mistakes? Gemma ruined a girl's
life
in the past and how she did it was not something that she could have gotten away with the "young and dumb" card. Even an eleven-year-old would know things that Gemma did was wrong. With the huge impact she'd left on Hallie's life, even after an abundance of acts of kindness while revealing her true self with a "Sorry, Hallie" at the end would never be able to mend the things she's done.
Regardless of the things state above, this book
did keep me reading.
All the individual events that happened were fun to read, and there is some suspense that kept me enticed, such as the huge question:
What did Gemma do to Hallie five years ago?
So many events ended up in a disaster, which was entertaining although a little frustrating when you look at the entire plot as one picture. This was not the lighthearted romantic read I wanted, but instead, it gave me a more complicated plot with a problem that would be interesting to find out how it would be solved.