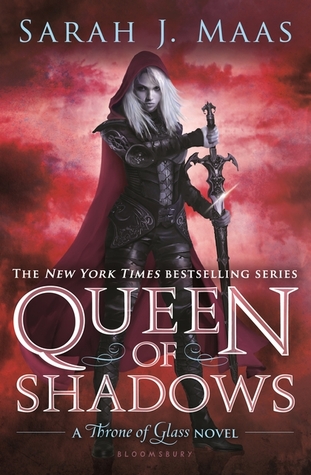 Title: Queen of Shadows
Author: Sarah J. Maas
Series: Throne of Glass (#4)
Genre(s): Fantasy, Romance, Young Adult
Publication Date: September 1, 2015
Publisher: Bloomsbury
Everyone Celaena Sardothien loves has been taken from her. But she's at last returned to the empire—for vengeance, to rescue her once-glorious kingdom, and to confront the shadows of her past...

She will fight for her cousin, a warrior prepared to die just to see her again. She will fight for her friend, a young man trapped in an unspeakable prison. And she will fight for her people, enslaved to a brutal king and awaiting their lost queen's triumphant return.

Celaena's epic journey has captured the hearts and imaginations of millions across the globe. This fourth volume will hold readers rapt as Celaena's story builds to a passionate, agonizing crescendo that might just shatter her world.
*this is not a spoiler-free review, don't read the review unless you've read the book.
I read Queen of Shadows when it came out, but this book has put me into the biggest reading slump I've ever experienced and I haven't read anything after QoS. QoS changed absolutely everything. Ships sink. Our characters transform. The plot doesn't just twists, it tangles. So much change that I'm not ready for, and so much foreshadowing of the next book.
In QoS, Celaena is back as Aelin from Wendlyn with determination to complete her tasks. She's no longer referred to as Celaena because she has completely ditched her old identity. She's finally ready to accept her role as Queen of Terrasen after her heart has mended after so much heartbreak in Heir of Fire.
Characters
First of all, WHAT HAPPENED TO AELIN. I dived into the book to find our badass yet loving Aelin, but all I got was a completely different character. I realized that the character I was looking for in the first 100 pages or so was named Celaena Sardothien and if you're looking for her, she's nonexistent. In the beginning, Aelin's a bitch. She's cold, distant, ruthless, and out of character. One of the things that I didn't like about Aelin was that she's too overpowered, being strong mentally and even stronger physically.

Trying to look at things from Chaol's perspective, I could fully understand why he thought of Aelin as a monster. It's almost as if she's lost some of her humanity with everything she's been through. Because of her abilities, she's arrogant, stubborn and doesn't give two shits about what others think of her. Although she's a confident, strong woman, I wanted to see a REAL HUMAN BEING. She's basically a wildfire that can't be controlled, and there was one line where she said something along the lines of "maybe they should just burn".

Oh Chaol...even though I've switched to team Rowan, I'm still heartbroken for the knight in shining armor. He hasn't done anything wrong, but everything bad seems to happen to him. I think that after QoS, it's not that he doesn't deserve Aelin but that Aelin doesn't deserve Chaol. Aelin threw him aside simply because of one, MINOR thing that happened in Crown of Midnight and I'm still salty at Aelin for it.

When it was practically declared that there was zero chance Aelin and Chaol would get back together, I started thinking about how sad it was that Chaol didn't have a girl anymore...but wait, how convenient that a new female character named Nesryn who's practically old Aelin is introduced, working together. I really didn't like how her appearance was so sudden and convenient, it felt like they were just pushed towards each other. And there we have it, another series with instalove.


Romance
One thing that we learn from the start is that Chaol is not in her heart anymore. It's amazing how much can change in one book. Although, I have to admit that I do feel as though there was a missing link in Heir of Fire to Queen of Shadows regarding Rowan and Aelin's relationship. At first, Aelin and Rowan were loyal friends, but suddenly Aelin and Rowan were all over each other. I'm not complaining about the ship, but the transition between loyal friends to lovers was not very smooth.
Rowan is the only one that Aelin opens up to, and he's the only one that can bring back some of her humanity. When our fae prince isn't around her, Aelin isn't herself, and I didn't like how dependant our character became on another character. Thankfully, Rowan was around for a huge part of the book.
I can't deny that I didn't fangirl my head off for Rowan and Aelin, but now, trying to look at a larger perspective, it feels as though everything that happened in the first two books was completely wasted. The way Aelin loved Chaol was never like how she loved Rowan and it's just saddening to think about Chaolaena, even though it felt like so long ago. It felt like their history was just thrown out the window while Aelin is doing things with Rowan.
It's not just Aelin's history with Chaol that's erased but Dorian too. SHE DIDN'T EVEN THINK TWICE ABOUT KILLING DORIAN. If they were true friends, wouldn't Aelin at least consider trying to find a goddamn cure?? Even after everything that Dorian and Aelin have gone through, Aelin tried to toss him aside when he was possessed.
Plot
So much more happened in QoS looking at the bigger picture. I can't say much without spoiling something major, but it really is action-packed. I didn't feel as though Manon's parts were as boring as they were in HoF, because she actually starts to become entangled in Aelin's story. I enjoyed how when there was a chapter with Manon's POV, it's when shit actually gets real. No romantic frustration, character frustration, or any of that sort when reading through Aelin's POV. Manon's chapters gave me a chance to escape and to be able to just read for the storyline.
One thing that I am NOT looking forward to reading about in the next book is Elide. I never liked her even though she worshipped Aelin, but with how things are looking right now and how Elide has to find Aelin having a false lead...that will be a HUGE pain to read about with more incoming omfg frustration.
Overall
I think I liked this book better before I actually reviewed it, but looking back, QoS didn't really live up to my expectations (except for Rowaelin, of course). While the plot has definitely escalated and I can feel that plot is going to be huge in the next book, the characters and the relationships lowered my enjoyment for this book.